This featherlight Swiss roll recipe with a raspberry and cream filling is a delight at the tea table or as a dessert. You may also top it with some sliced almonds and use any other berries. If your berries are exceptionally sour, sweeten them by crushing them somewhat and let them stand for 15 minutes with castor sugar sprinkled over.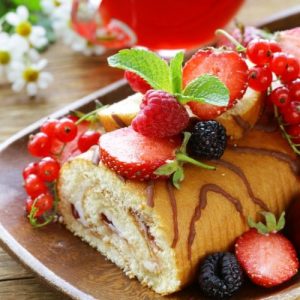 Raspberry Swiss Roll Recipe
Delicious Raspberry Swiss Roll Recipe
Ingredients
4

eggs

separate

15

grams

caster sugar

40

grams

flour

sifted

caster sugar

for sprinkling

250

ml

cream

280

grams

fresh raspberries
Instructions
Preheat the oven to 190ºC (375ºF), greasing a swiss roll pan and line with baking paper, cut to fit.

In a large bowl, beat the egg yolks with half the caster sugar until light and foamy, lighty fold in the flour.

Whisk the egg whites until they form stiff peaks, little by little whisk in the remaining sugar to form a stiff meringue.

Stir half the meringue mixture into the egg yolk mixture, then fold in the rest.

Pour the mixture into the prepared pan, level the surface and bake for 10 minutes or until spongy to the touch.

Sprinkle a sheet of baking paper with caster sugar, turning the cake out on to this.

Leave to cool with the pan still in place.

Lift the pan off the cooled cake and peel off the baking paper lining.

Whip the cream until it holds its shape.

Fold in 250 grams of the raspberries, and spread the cream and raspberry mixture over the cooled cake.

Leaving a narrow border around the edge.

Carefully roll up the cake from a short end, using the paper as a guide, sprinkle the roll generously with caster sugar.

To serve, slice the roll and top each portion with the remaining raspberries.
Nutrition
Calories:
183
kcal
Carbohydrates:
11
g
Protein:
4
g
Fat:
14
g
Saturated Fat:
8
g
Cholesterol:
125
mg
Sodium:
44
mg
Potassium:
112
mg
Fiber:
2
g
Sugar:
4
g
Vitamin A:
590
IU
Vitamin C:
9
mg
Calcium:
41
mg
Iron:
1
mg
We hope you enjoyed this delicious Raspberry Swiss Roll!
Feeling guilty after this delicious dish? Visit our fitness website and burn those calories! Be sure to subscribe to our YouTube channel to ensure you do not miss out on any of our recipes. Have a look at our other recipes here. Be sure to follow us on all social media platforms. Twitter | Facebook | Youtube | Instagram | Pinterest