If you're looking for a truly unique and delicious dish to add to your recipe book, look no further than the classic South African Marmite tart recipe. This savory and rich dish has been a staple in South African households for generations and is perfect for any occasion, from family gatherings to braais and even as a lunchtime snack.
To create this mouthwatering tart, you'll start with a crispy pastry base that's easy to make and always delicious. The filling is where the magic happens, as it's made up of a mixture of eggs, cheese, and the star ingredient, Marmite spread. This yeast extract spread has been enjoyed in South Africa for over a century and is a rich source of vitamin B, folic acid, and other essential nutrients. Marmite is what sets this dish apart, adding a unique and savory flavor that's unforgettable.
The Marmite tart recipe is not only delicious but also an excellent way to get your daily dose of essential vitamins and minerals. And with its easy-to-make pastry base and creamy filling, it's a dish that anyone can make at home. Enjoy it hot or cold, and it's sure to be a crowd-pleaser at any gathering.
This dish is versatile and perfect for any occasion. It's a great addition to your recipe book and a fantastic way to explore South African cuisine. Plus, it's easy to make, so you can whip it up in no time whenever you're in the mood for a savory treat.
In conclusion, the Marmite tart recipe is a true South African classic that's been enjoyed for generations. With its savory filling and crispy pastry base, this dish is sure to be a hit at any gathering. Whether you're an experienced cook or just starting, this dish is easy to make and packed with essential nutrients. So why not give it a try and discover a delicious new dish that's sure to become a family favorite?
Check out more recipes here. And don't forget to check out our Youtube channel.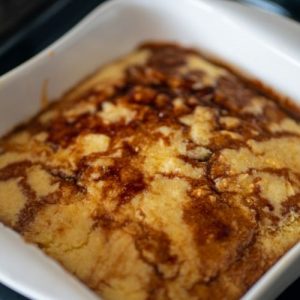 Traditional Marmite Tart
Savory and rich, South African Marmite tart is a unique dish perfect for any occasion. Easy to make and packed with essential nutrients.
Pin Recipe
Ingredients
1

cup

flour

1

cup

cheddar cheese

grated

½

cup

butter

1

cup

milk

1

large

egg

3

tsp

baking powder
For the topping
125

grams

butter

1

tsp

marmite
Instructions
Mix together butter, cheese, flour, and baking powder.

Beat eggs together with milk and add.

The batter shouldn't be too thick.

Pour into greased pan and bake for 10 minutes at 200°C (390°F).

Melt together 125 grams butter and marmite and pour over the hot tart.
Nutrition
Calories:
358
kcal
Carbohydrates:
14
g
Protein:
7
g
Fat:
31
g
Saturated Fat:
19
g
Cholesterol:
108
mg
Sodium:
505
mg
Potassium:
96
mg
Fiber:
1
g
Sugar:
2
g
Vitamin A:
974
IU
Calcium:
238
mg
Iron:
1
mg
We hope you enjoyed this marmite tart recipe!