These lovely feta fingers drizzled with some honey over, and served with wedges will make your day.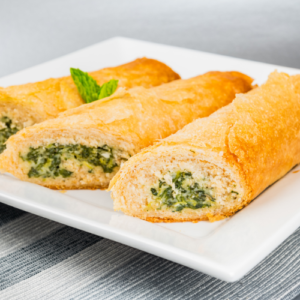 Feta Filo Pastry
Pin Recipe
Ingredients
200

gram

creamy feta

12

sheets

filo pastry

2

tbsp

lemon rind

finely grated

2

tbsp

shredded fresh mint

plus sprigs to serve

2

tsp

black sesame seeds

honey

to drizzle

lemon wedges

to serve
Instructions
Preheat your oven to 200/180°C (392/356°F) fan forced.

Line 2 baking trays with baking paper.

Cut the feta crossway into eight 1cm (0.38 inches) thick pieces.

Cut each slide into thirds.

Place 3 sheets of filo on a work surface and spray each with oil. Cover remaining filo sheets with a clean tea towel, then a damp tea towl ( this prevents the filo from frying out.)

Cut each sheet in half crossway, then fold each piece in half crossway. Spray with oil.

Lay a piece of feta lengthways across one short end of piece of filo.

Sprinkle with a little lemon rind and mint.

Fold the end over, then fold the sides in and roll to enclose.

Place seam side down, on a prepared tray and spray with oil. Repeat with remaining filo pieces and sheets, feta, lemon rind, and mint to make 24 rolls.

Sprinkle with sesame seeds.

Bakin for 12 minutes or until golden.
of feta